OBS Advisory (OBS) is an online information source for individuals visiting or working internationally in the world's most challenging places.
The end of the opium harvesting season in Afghanistan, around late spring to early summer, is watched closely by those working in crisis response.
It's around this time that recruiters for an all-together more bloodthirsty endeavour begin to descend on the newly unemployed young men living in this volatile corner of the world.
Ian Ruggier, head of crisis management for Tangiers International, knows to keep a close eye on this region over the weeks and months that follow.
He said: "Once the harvesting is over, you get a lot of idle young men who are itching to earn some money again. It means they're ripe for recruitment by various insurgent groups.
"It's at this point you can expect a spike in violence."
Ian knows that regional "indicators" – like the opium harvest in Afghanistan – play a significant role in predicting developing crises the world over.
As well as working for Tangiers International, Ian is responsible for plans and operations at OBS Advisory (founded by Tangiers in 2012), issuing alerts for travellers, expats and those working abroad about a range of developing or active crises.
These alerts – delivered through the OBS website and Tangiers International's customer app – allow users to make informed decisions about whether to travel to a particular city, region or country, or what their options are if they are already there.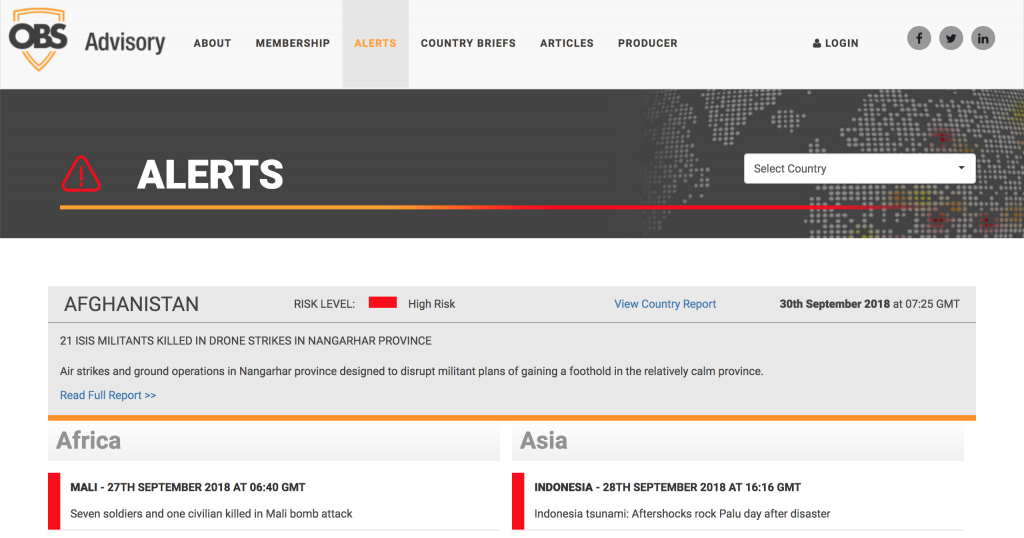 That means that whether it's industrial action on the streets of Argentina, a typhoon heading towards the coast of Japan, or election-related violence in Pakistan – Ian and his team need to know how serious the risk is at the earliest possible stage.
"Every day we have a look at what's going on around the world, taking every continent individually and paying particular attention to known hotspots and where our insured are currently," Ian explained.
"There is the event itself and what it may develop into, but there is also the question of what local infrastructure they have in country to deal with it.
"Election times are always an indicator that things may kick off. Another may be if a country is having issues with the economy, for example in Argentina or Venezuela.
"It may not necessarily lead to conflict but it may lead to a crippling of the main cities; protests, the closing down of airports, streets being blocked, et cetera."
In order to stay on top of rapidly-developing incidents, Ian and the team scour local, regional and national news sources and closely follow travel alerts from the US Department of State and the UK Foreign Office.
They can also utilise Tangiers International's network of more than 100 field agents worldwide, receiving instant updates from those in-country.
"We do have a really good network of people on the ground who can help us, whether in the security domain or in the medical domain," added Ian.
"It's truly a 24/7 job. We try to prioritise threats where we have our clients based and if something is ongoing, we make sure we keep on top of it until it dies down."