Despite the risks that accompany travel to volatile or war-torn regions of the world, for many people, family takes priority.
That's why a trip back to Egypt to visit relatives was an important annual event for "Hassan," a businessman living with his wife and young family in the US.
The 57-year-old touched down in the capital Cairo earlier this year, intending to pack as much into his two-week trip as possible.
Although many parts of Egypt are relatively safe and open to tourists, the Governorate of North Sinai – where Hassan's elderly parents live – has been beset by a violent insurgency in recent years, leading to warnings against travelling there.
Hassan, aware of the dangers, intended to take every precaution by planning the trip meticulously and making sure he was kept abreast of developments on the streets.
Two days in, however, his plans unexpectedly ground to a halt.
Waking in the morning at the home of his parents, he instantly felt that something was not right. He looked into a mirror and saw that the right side of his face was drooping.
Recognising this as a symptom of a possible stroke, Hassan told his family to immediately call for a doctor.
The family doctor arrived shortly afterwards and examined Hassan, asking him a series of questions and conducting standard medical tests.
Finally, he had a verdict. Hassan had not suffered a stroke, the doctor explained, but had Bell's palsy: a condition where the nerves which control your facial muscles become inflamed or compressed leading to a temporary paralysis.
For Hassan, however, the diagnosis did not put him at ease. As well as a facial droop, his words were noticeably slurred and he felt a distinct tingling in the fingers on his right hand.
He was sure his condition was more serious. He needed a second opinion.

Hassan, a battleface insurance policy holder, used the Tangiers International customer app on his smart phone to bring up a list of recommended medical service providers nearby.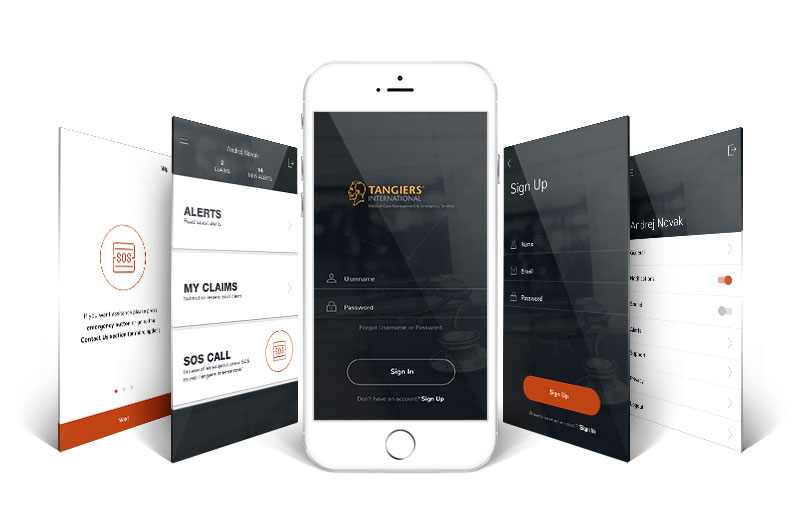 He also called battleface, who agreed he was better off seeking a second opinion. Having located a nearby clinic recommended by Tangiers International, the medical services provider for battleface, Hassan was driven there by family members and was quickly seen by a doctor.
Meanwhile, Tangiers International made contact with the clinic to ensure any assessment could go ahead without delay.
Hassan – accompanied at the clinic by several members of his family – was informed by the doctor that he seemed, indeed, to have suffered a minor stroke. The only way to determine the severity of the stroke was to undergo an MRI scan – a facility not available at the small clinic.
Without delay, Tangiers International – under close review of its medical team – instructed its in-country field agent to arrange transportation between North Sinai and Cairo, where an international hospital was notified about Hassan's forthcoming arrival.
Within a matter of hours, Hassan had been taken by land ambulance to the well-equipped hospital in the capital and undergone the brain scan, accompanied by Tangiers International's agent.
Having an agent on hand ensured that everything was able to progress as smoothly as possible, including payment being made to the hospital, so that the only concern of Hassan was his own well-being.
Fortunately, the results of the scan showed that he had only suffered a mini stroke. This meant that after a 10-day period of rest and recuperation and a further evaluation, Hassan was able to fly safely back to the US, where he could continue with a follow-up review in his home city.